Collaborative Design of Prefabricated Façade Systems
Where research and industry meet to bring individual expression and cost-efficiency to our built environment.
About
CoDeFa is a joined research project between Institute Integrative Design|Masterstudio, FHNW and ERNE AG Holzbau, co-financed by Innosuisse.
The primary goal of this research is to improve our built environment on a larger scale by providing efficiency of manufacturing facade elements, without sacrificing design freedom. We believe that the convergence of the design and manufacturing as well as constant feedback between the disciplines can help to unlock the true potentials of technological innovation. Through collaborative work between woodwork engineers, experienced designers, robotics specialists and software developers we establish a novel approach to designing and producing prefabricated façade systems that are individualized, well-crafted yet cost-efficient.

How we work: Digital Craftsmanship
To enhance creativity and design freedom  among architects, we stream our research investigations into three main directions: custom parametric modelling instruments, flexible robotic fabrication and most importantly a collaborative design process between various stakeholders.  The digital design and fabrication tools are developed in parallel and are informed with technical limitations and material properties of wood. As such, this solution brings a new value to the industrial setup, a digital craftsmanship, where the creative needs and technical feasibility meet a stable ground forming continuous design-to-fabrication process.
Digital Tools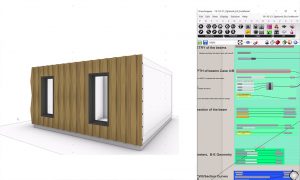 In order to provide more transparency, shorten the design–to–production process and provide creative freedom for architects, we develop a set of custom parametric tools of varied functions. These are playful instruments that boost architects' creativity, help them to visualize their ideas, estimate costs as well as rationalization tools for engineers to facilitate the facade planning phase and ensure continuous digital workflow.

Robotic Fabrication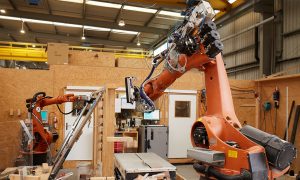 We analyse and improve existing industrial production processes of ERNE AG Holzbau as well as establish new automated production methods to support architects during the creation of their individual ideas. Through collaborative work between researchers and ERNE's engineers, we established innovative 2-robot fabrication processes for complex façade assembly as well as a set of individual supporting production processes.

Collaborative Design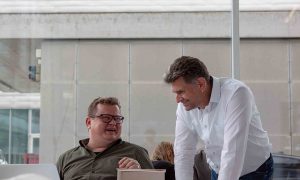 Understanding architects' expectations towards facade systems are crucial in our investigations. We ground our research on the concept of collaborative customization, in which the needs of the customers inform the manufacturing process. We explore different modes of exchange between architects and the construction company and adjust accordingly the offer of the industrial partner.

to design and fabricate unique facade systems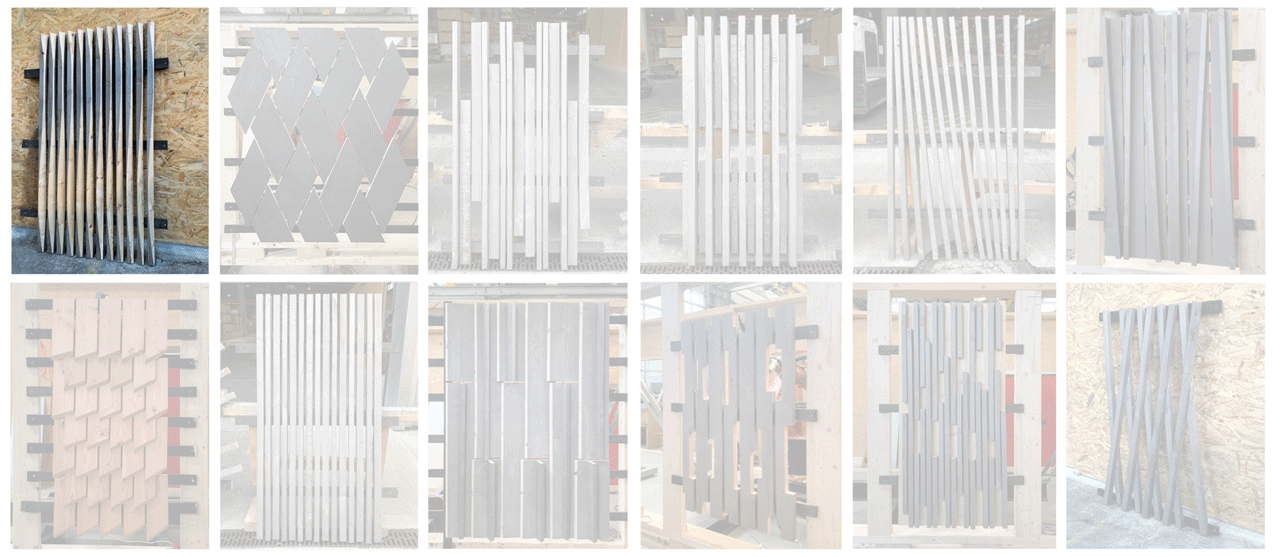 Wood facades: Learning from the past
Wooden facades have a long history in Switzerland. Their form and aesthetics steam from centuries of trials and errors, which led to optimized systems regarding available resources, production feasibility and performance in the local climate. In our research we are learning from the old masters. Together with carpenters, wood engineers, robotic specialists and architects we are looking for the new interpretations of historic wood façades – shingles, board-on-board and beam-based facades. With the help of new design and production technologies we creatively expand its aesthetic expression, while keeping original logic and performance.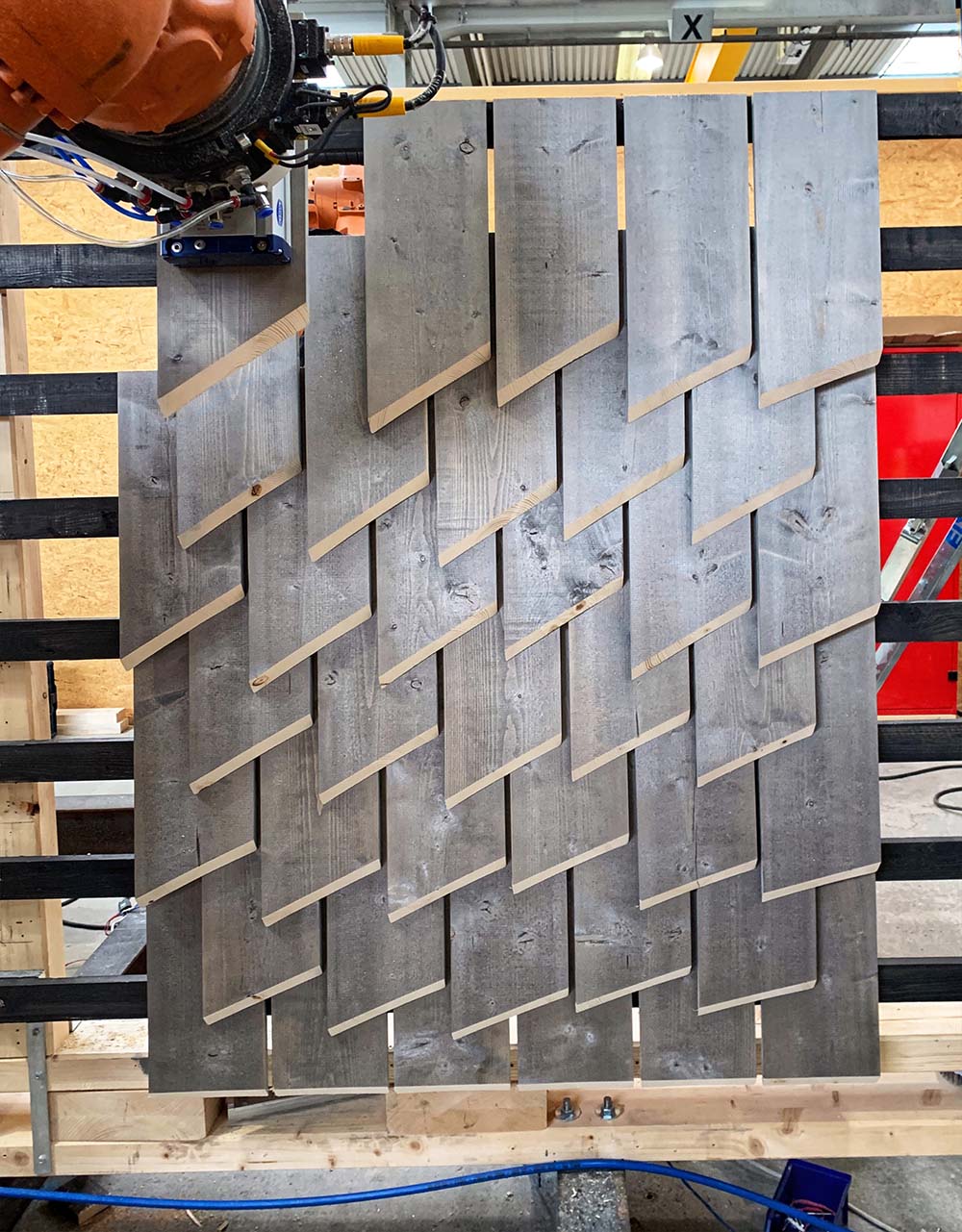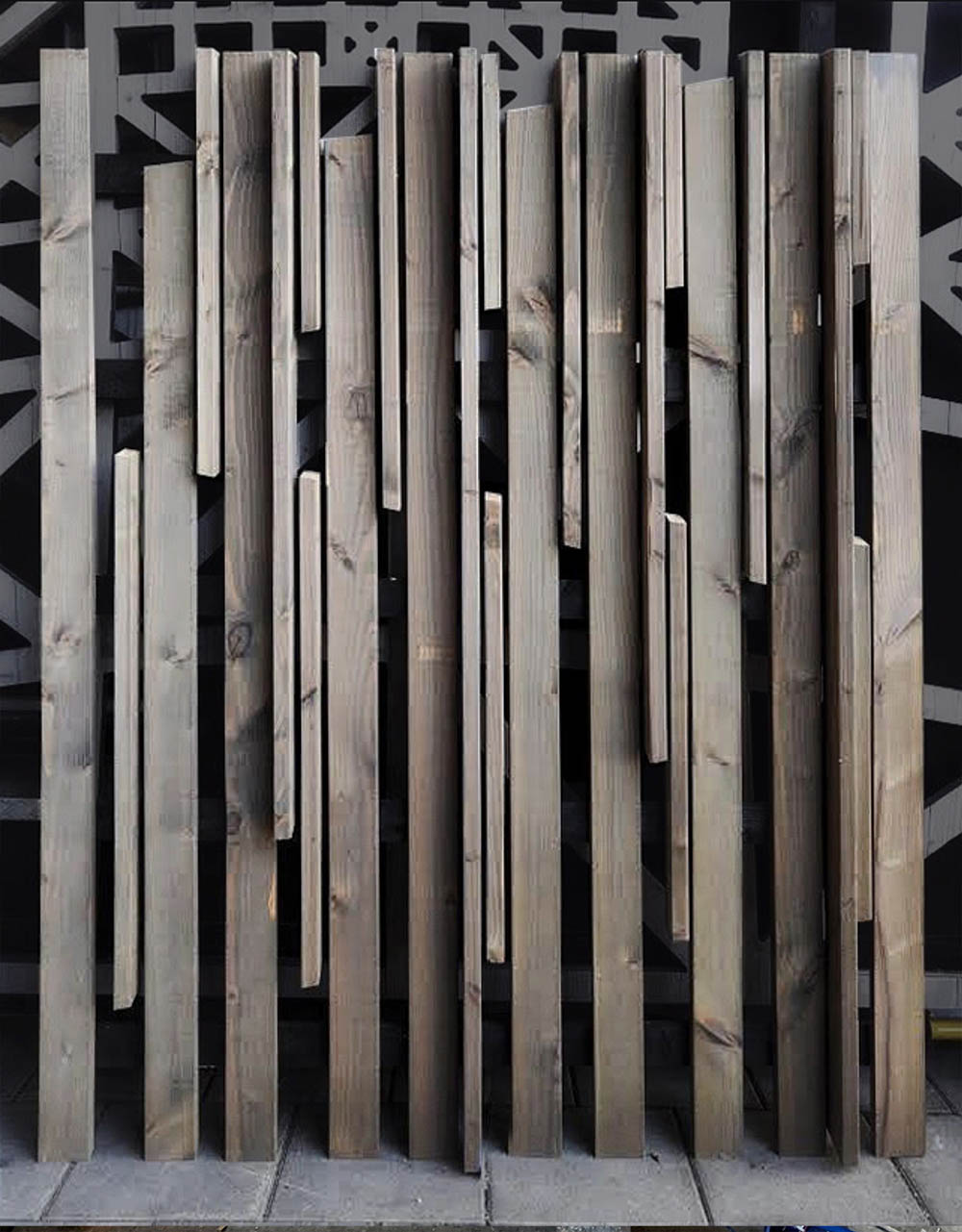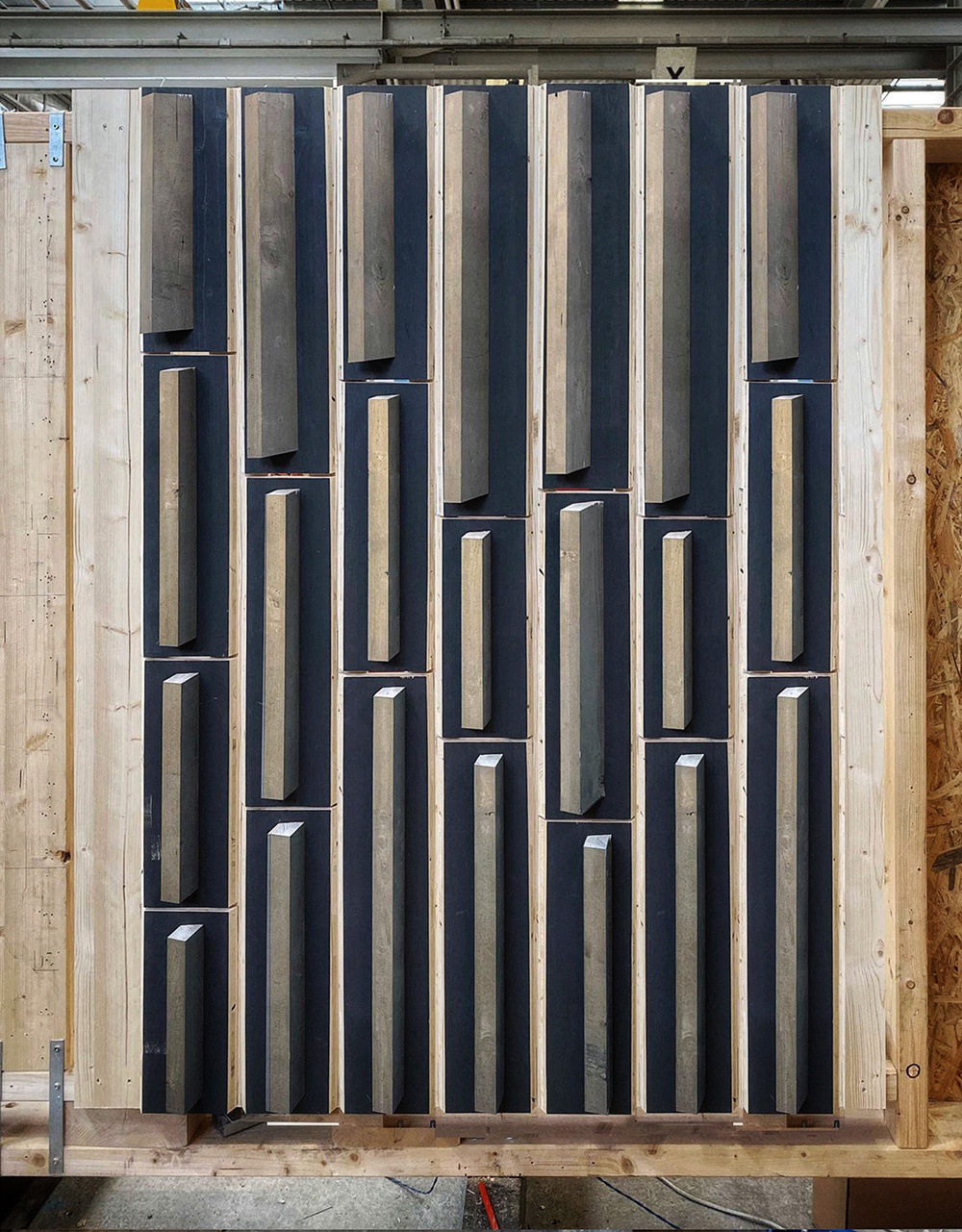 Demonstrator: Office Saig
The demonstrator of the project, four outstanding facades on the modular office building in Stein, Switzerland was accomplished in November 2020. The front and back beam-based facades create architectural frame for the shingle and multi-layered facades on the sides. These 3 types not only reinterpret the most common Swiss traditional façade solutions, but also explore to the maximum the constructed fabrication toolbox, as each type represent different fabrication logic and challenges.
Working with architects: a collaborative process
One of our main goals is providing architects the possibility to customize the prefabricated façade systems through collaborative design process with the manufacturer. Early interdisciplinary exchange is crucial to create outstanding façade systems within a reasonable price range. That is why, each project starts with a workshop between manufacturer, engineers and architects, where digital design tool is adjusted to the vision of our partners. At the same time, the tool playfully expands design variety, ensures that the developed system is within the available production possibilities and evaluates its price. In the next step, we build the mockup with the robotic infrastructure of ERNE AG Holzbau to further improve the design until it meets architects' expectations.
If you're an architect, you're very welcome to support our research with your knowledge! Please fill out the online questionnaire. We want to know your experience and expectations towards working with the prefabricated facade systems, dedicated design tools, importance of fabrication methods and collaboration with the construction company.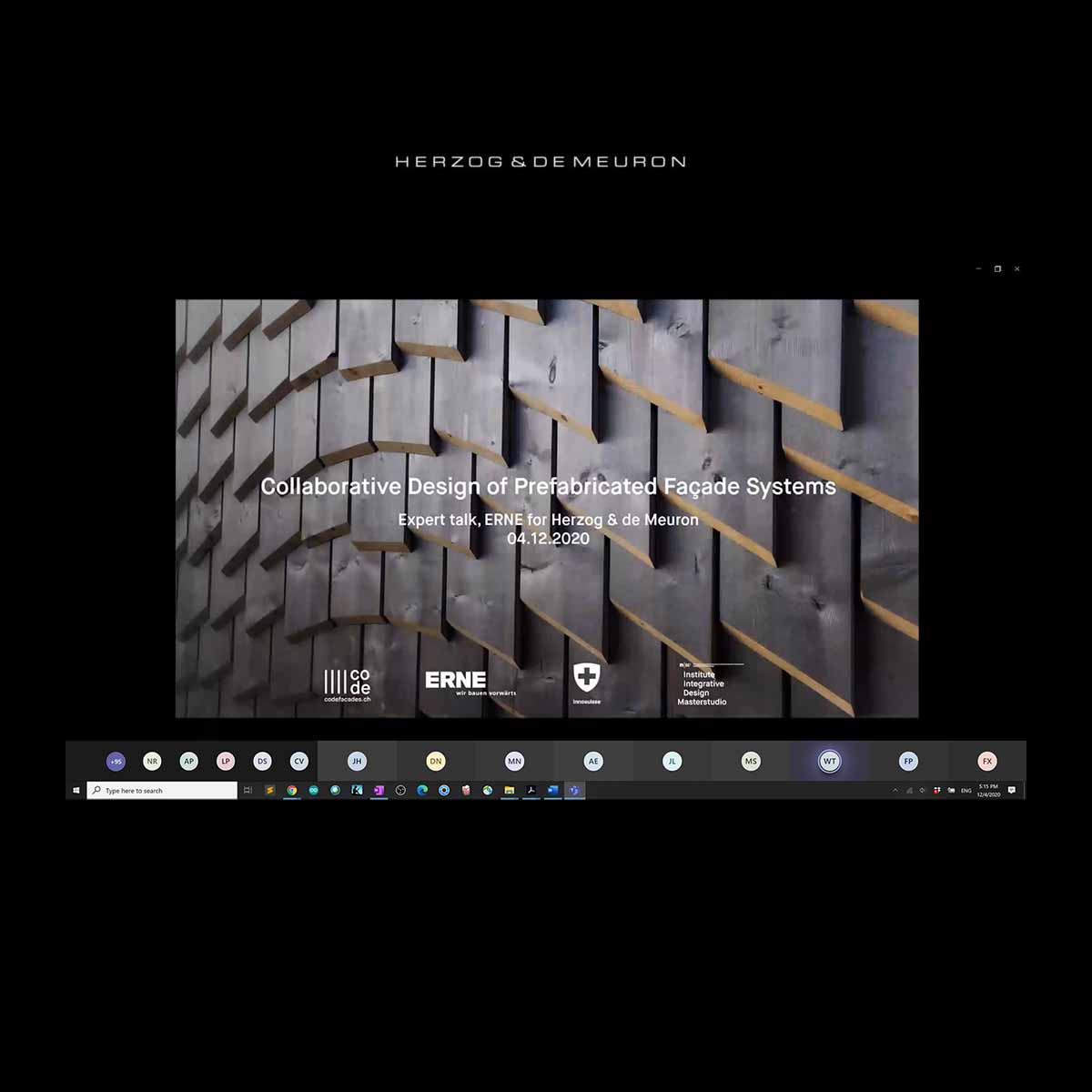 expert talk @ Herzog & de Meuron Digital Technologies Group
12.2020, Basel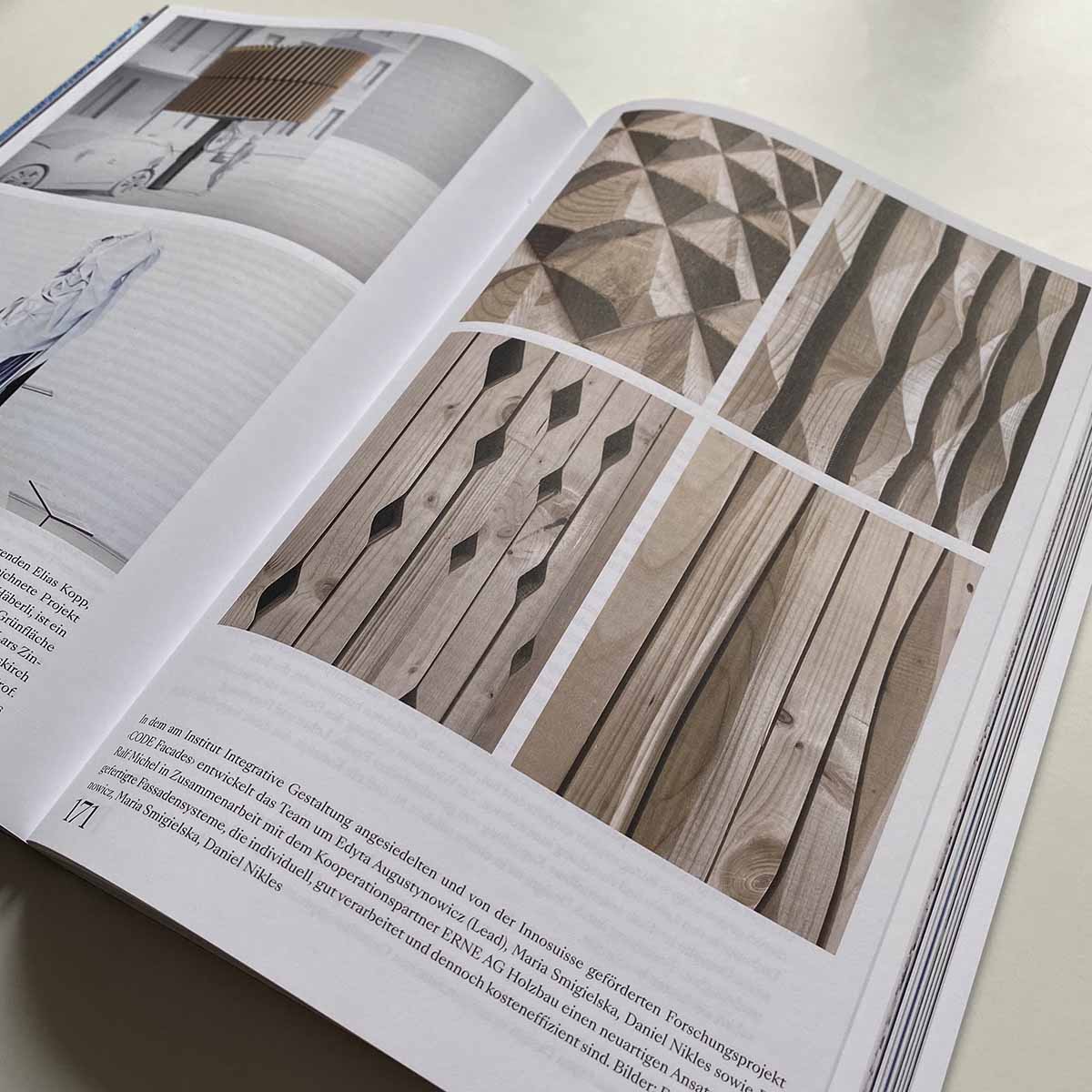 mention in the article in the FHNW publication              
2020, Basel
The project was initiated by Edyta Augustynowicz in 2018 as a joined research between University of Applied Sciences and Arts Northwestern Switzerland, FHNW and ERNE AG Holzbau. Our team is highly interdisciplinary and consists of researchers, experienced computational designers, woodwork engineers, robotics specialists and software developers.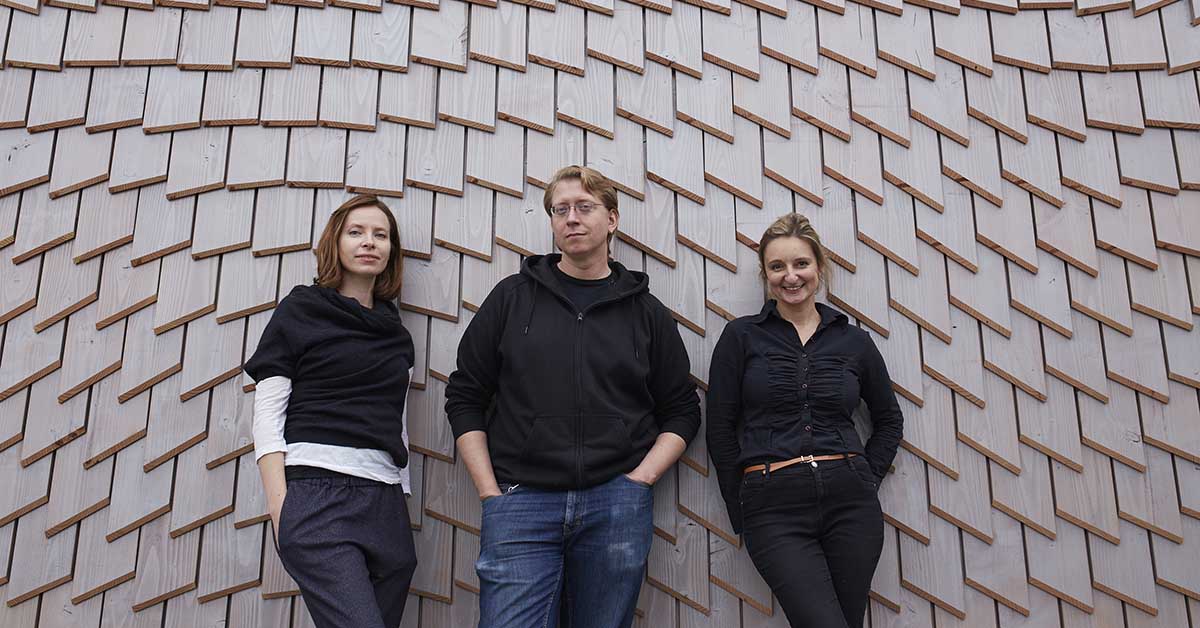 Edyta Augustynowicz
MSc Arch, MAS CAAD ETH
Project Lead
_
edyta.augustynowicz (at) erne.net
Maria Smigielska
MSc Arch, MAS CAAD ETH
Researcher
_
maria.smigielska (at) fhnw.ch
Daniel Nikles
MA of Arts FHNW in Design
Researcher
_
daniel.nikles (at) fhnw.ch
Thomas Wehrle
CTO ERNE AG Holzbau
Project Manager
_
thomas.wehrle (at) erne.net
Prof. Heinz Wagner
Head (ret.) Institute Integrative Design|Masterstudio, FHNW
_
heinz.wagner (at) fhnw.ch
Dr. Ralf Michel
Co-Lead a.i. Institute Integrative Design|Masterstudio, FHNW
_
ralf.michel 
(at) fhnw.ch

Location
HGK | FHNW – Basel
Institute Integrative Design | Master Studio Design
Freilager Platz 1, 4002 Basel, Switzerland